The winning idea of Franco Stefani, the System Group boss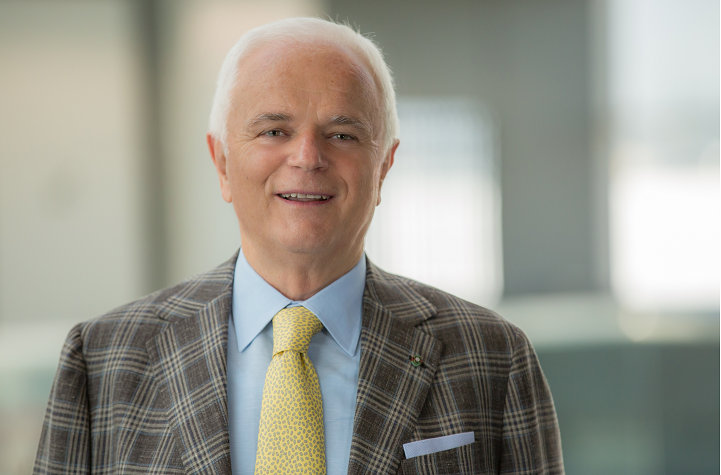 The road to paradise is tiled with extra-large slabs. If in the past ceramic materials were used for floors and wall coverings, now, as has been demonstrated at Cersaie, they are used in furnishing, in sitting room and office tables, in kitchen worktops and in the external facades of futuristic buildings. But when and for whom did porcelain stoneware literally start thinking big? The Steve Jobs of the ceramics industry is Franco Stefani (photo), boss of the System Group (of which Laminam, the company that produces the large sizes, is a member). When he was very young he attended the Acal school in Sassuolo (training specialised professionals for the ceramics industry) in the morning, and in the afternoon he helped his father, who was a cheese-maker. This young man, who used to spend his time trying out the experiments of the electronics magazine Sistema Pratico, today leads an empire with a turnover of 500 million, 2,100 employees, branches all over the world and 40 subsidiaries.
Stefani, the fortune of the Sassuolo ceramic district rests on tiles; large slabs could have been a gamble.
"We presented them in 2000 at Ceramitec in Munich in Bavaria. In 2004 we set up the plant without anyone asking us to, in order to show the world what could be done. The surprise was so great that it has taken 17-18 years to understand that that really was the way to go".
How did you get the idea?
"Working, doing research, talking with customers. I realised that people no longer wanted tiles with joints, but they wanted large, resistant and extremely attractive slabs."
How did you spread the idea?
"We took part in "out-of-sector" events such as Marmomacc and the Furniture Trade Show, where kitchen producers were present, the leaders in the furnishing sector. We aimed at niche markets, demonstrating that with our Lamina System technology it was possible to use ceramic materials in applications which were previously inaccessible. We managed to open up new markets."    
You said that the new idea didn't catch on immediately.
"At the beginning I lost 30 million euros, but I had the capital to manage the transition. It was crazy, but I knew what I was doing."
At Tecnogilla in Rimini you demonstrated that the large slab with a small thickness was able to bear any weight.
"Yes, I jumped onto the slabs to demonstrate their resistance although they were sheets of ceramic material three millimetres thick. I demonstrated that it's not necessary to have big thicknesses to have strength. The revolution has been in understanding that the press does not need a mould, but is able to create a slab by working on the pressure.
Difficulty and success
"At the beginning I lost 30 million euros, but I had the capital to manage the transition. It was crazy, but I knew what I was doing."
Our Lamgea press has a pressing force that can reach as much as 44 thousand tonnes, producing ceramic surfaces of up to 1600×4800 millimetres and with variable thicknesses from 3 to 8 millimetres."
And what has the district made of the large slabs?
"Innovative ideas generally need time to be fully understood. Offering cutting edge solutions has always, however, been part of our DNA and the district sees us as a technological partner of excellence."
But how can you anticipate trends, market tastes?
"Customers don't only want products; they want solutions to their problems. Our approach has always been to identify the added value that can surprise the customer. It's a process that gives value to the result."